Making a real difference to people's lives
We are driven by our purpose to improve the standard of living for older people in the UK. Target accelerates the improvement  in the physical standards of UK care homes through long-term, responsible investment in modern real estate which delivers our return objectives to shareholders.
Why we do it
We are advocates of the benefits that intelligently designed, purpose-built care homes can bring and we want more residents, care professionals and local communities to benefit from their positive social impact.
Our Investment Manager is a specialist who understands the operational challenges our tenants face on a daily basis when providing quality care, and is there to help them every step of the way.
Strategic Pillars

To grow a robust portfolio

Our focus is on real estate quality and stability for the long-term.

Sector specialist portfolio management that
values relationships

To effectively manage relationships within a complex sector as a highly engaged landlord.

Regular dividends for shareholders

Our focus is on disciplined & conservative financial and risk
management to deliver earnings supporting quarterly dividends.

Read more on pages 16 and 17
Read more on pages 18 and 19
Responsible investment underpins our strategy
To achieve our social purpose via responsible & sustainable investment
Our focus is on our social impact, allied with a firm commitment to environmental sustainability and good governance.
How we do it

Clearly defined house view on investible asset standards, both minimum and aspirational
Stable and experienced team of sector experts.
Strong reputation and track record in completing transactions and fostering relationships.
Conviction to build a portfolio highly diversified by tenant,
geography and end-user payment profile.

Collaborative approach to tenant relationships, inclusive of
sharing knowledge, insight and best practice.
Regular asset visits and frequent dialogue with tenants at
operational and senior management levels.
Data-led. Comprehensive collection and analysis of monthly asset data to consider performance and trends.

Long income visibility with inflation-linked annual growth.
Capital structuring focus on conservative gearing levels.
Advantages from non-cyclical sector, with portfolio
construction and diversification further reducing volatility/risk.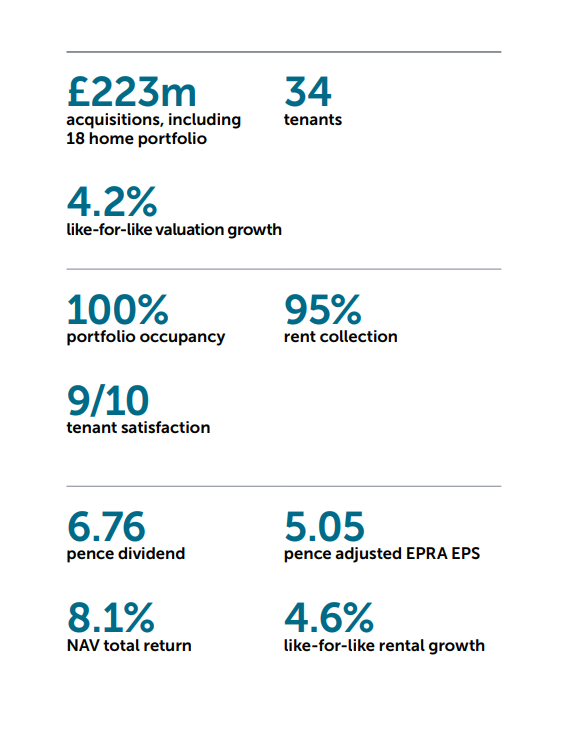 Above as at 30 June 2022